Raider Saddlebag Mounts
Were Difficult to Come by
for My Star Motorcycle...

... When you find yourself needing Raider Saddlebag Mounts, for a Yamaha Star Raider Motorcycle, you're likely to find yourself like me... without!
The Raider is a new enough bike, at a bad time in history I suppose... with few enough of 'em sold, that nobody, as of early 2010, is building anything that will work; leastways, not with the Yamaha factory backrest system.
The biggest problem is a cosmetic shroud that covers over the fender strut bolt heads.
Those chrome shrouds prohibit the access required to utilize them for mounting ghost brackets, or any other sort of easy bracket Saddlebag Mounts.
You just can't get to 'em, to bolt up the best available Motorcycle saddle bag mounts. If they're out there... I ain't found 'em... and I guarantee... I've looked for Raider Saddlebag Mounts!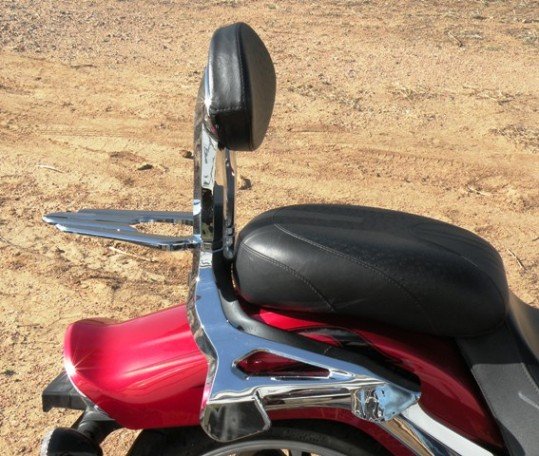 I hunted around for a bit, for both the mounts, as well as a set of Hard Motorcycle Saddle Bags that would work... and suit my eye at the same time... and to tell the truth... I found several options for bags I liked, but just wasn't coming up with a workable mounting system, that would hang 'em on my Raider.
Finally, I just happened to luck into seeing a mount while surfing on some forgotten website that turned the light on in my head... Custom Fabricate the Raider Saddlebag Mounts I need!
I bought my Raider used. The fella that had owned it had slung a NASTY set of 'throw over' bags on this otherwise Sweet Ride... I would only buy the bike, if those gawd awful, Nasty bags were stripped off.
... But... the support brackets remained... I took them off when I got the bike home... and they'd been sitting in a storage compartment on the rig...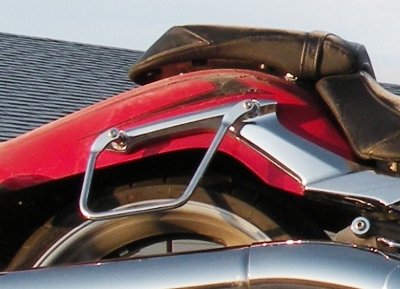 Those factory support brackets would become the foundation for my Raider Saddlebag Mounts.
So... a good friend of mine, being a welder... I did a lil' horsetrading, and got him to do a lil' bit of custom motorcycle fabrication for me! :o)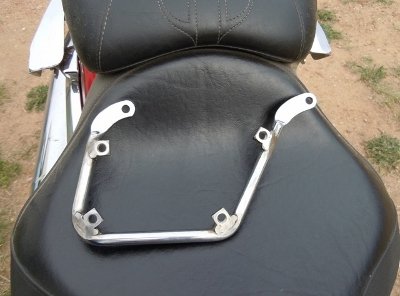 It's really as simple as welding 3/8 nuts into position to be bolt points to attach the bags.
These Raider Saddlebag Mounts give me a four point mounting system which I'll brace up using wide fender washers and neoprene washers...both inside, and outside the bags. That will distribute the stress across the ABS back of good, hard, Motorcycle Saddlebags... helping to reduce or eliminate any cracking that might happen from stresses at the bolt/mounting points.
Since there is also... Nobody... building any saddlebags to match the bolt pattern of these custom Raider Saddlebag mounts... I'll have to re-drill the backs of the bags I choose... to match this bolt pattern... and use some spacers on the top mounting points, to hang the bags straight...
There might be a possibility of having to fabricate some sort of a thin plate, to smooth the back of the soon to be chose motorcycle saddlebags... but that will have to wait, till the suckers are in my hands... I'm hoping for a lil' good fortune, and bags that are flat enough as they are...
One nice touch, will be that, with that built in shroud adorning the chromed Yamaha Backrest... the space between the fender and the bags should be well dressed! Rather than the exposed quick release mechanism you find on "other" machines! Mine will have a chrome cover. Suh-Wheet! :o)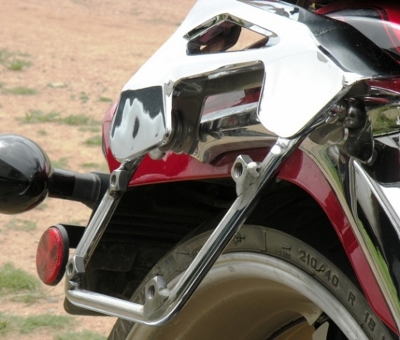 ***Clarification*** The Mounts ARE NOT bolted to the Quick Disconnect Backrest. They are bolted in position on the fender struts just like in the third photo from the top. They are placed outboard of the "spools" that the QC backrest locks onto. They are located between those mounting "spools" and the Fender Strut Bolt head. and were covered by the chrome shroud of the BACKREST. I no longer have or use this backrest (I went to a different style of FIXED backrest) so I couldn't add another photo  to clarify this. These saddlebag mounts were NOT built/installed to be part of the Quick Disconnect Backrest.***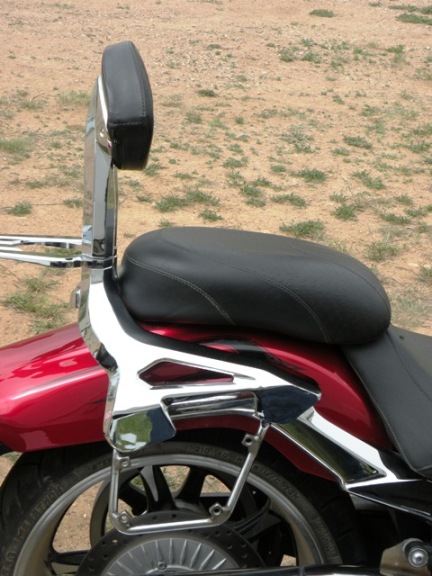 Now... the only thing left is to make my final Motorcycle Saddlebag selection... fit 'em up to the bike to work out the bolt pattern position... drill 'em... and bolt those saddlebags on my Raider... which should happen shortly...
Finding the right bags is the real problem here... It's tough to just take measurements, and judge how a saddlebag is going to look on a bike, by holding up paper templates...
But, there's lil' other option... few shops carry any sort of a selection, on hand, of quality, hard, saddlebags...
So... a fella has to try to make the best choice he can... pay his money... and order the best he figures he can find... hoping that his judgment of how they'll actually look, on the bike... works out to be good! :o)
I believe I've got 'em found... just have to complete the order... get 'em here... and bolt 'em up to my Custom Fabricated Raider Saddlebag Mounts.
... anyhoo... that story will be coming... very, very, shortly! ... 'cause in another 6 weeks or so... me and my Raider have to be ready to hit the road for our ride to Alaska! Hoo! Ya!

Return from Raider Saddlebag Mounts to Motorcycle Touring on Freedom Road