A Motorcycle Isn't Usually a Unique Ride When it Leaves the Factory...
They start Morphing into that Unique Ride.... some little while after they roll off the assembly line. Let a bit of time to pass, and they pretty much all start taking on a different one-of-a-kind, Ride Your Own, personality.
Motorcycles are probably the most customized vehicle on the planet. There's just something about a bike that whispers to you in your sleep... Change me! Change me! Make me your own Unique Ride! ;)
Bikers, above all other operators of motorized personal transportation, are prone to Live the phrase; "Ride Your Own".
I'll bet that if you snatched 10 bikes of the same make and model off the road, at random... half of them are going to be Non-Stock in some fashion or another. Half of them are going to be able to live up to the claim of being a Unique Ride.
A motorcycle, more than any other vehicle known to man rapidly takes on its own Identity. From radical paint and structural modifications to simple saddlebag, exhaust pipe and peg swaps. They tend to stay "Factory Stock" for a short period of time.
Then of course, there are those that are wrenched together as one off bikes, from the ground up. They came to life as a vision of a unique ride
I suspect that it grows out of the philosophy that you don't ride a motorcycle... you wear it! :) It's not really a separate machine. After a while, and many miles, that bike becomes a part of you. It's far more than a machine, it's a living, breathing piece of your soul.
If something Bad happens to it, the injury or loss is felt deep in the core of the Rider.
On this page I'm collecting a few of the Unique Motorcycles that have caught my attention over the years and miles. Now, not all are going to easily fit into the idea of Motorcycle Touring.
I'm juuuuust a lil' bit hesitant to put such limitations on a bike, or its Rider. A couple of years back I was in a Yamaha shop hunting some hardware for my Raider, just before I left on my Alaskan Highway Journey.
A smart alec Know it All bike salesman blurted out; "You bought the wrong bike."
He kind of offended me. My Raider might could be the wrong bike for HIM. But she's been the perfect fit for ME! The point bein'... the Best Touring Motorcycle is either the one you're riding!... or the one that calls to your soul! Your Unique Ride
They need not be high dollar rides out of the reach of those of us without understanding "back seats"... or other obstructions to our ability to drop coin on our rides. While they can run the gamut from mild to wild, to be a Unique Ride, they need only demonstrate personalization and imagination.
They need only be... the Ride of an Individual.
Now that I've been Inspired? to build this page, I'll be keeping a sharper eye watching for more interesting bikes to add to the gallery. Check back once in a while to see what I find... especially if you're looking for inspiration for your own modifications to your own Ride.
---
Click any of the Thumbnails of the photos below to show you a larger picture.
---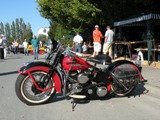 We were camped at the Anacortes, Washington Marina about a year ago. There was an antique equipment show that weekend. They had everything from locomotives...
To Sweetly Restored 1948 Harley Motorcycles!
---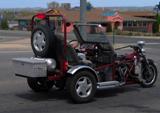 Just recently I was rolling through Cortez Colorado and this Trike passed us. I managed to catch it on my phone camera from the window of the truck! ;)
I'm not sure that V-8 will give him enough power for the hills in the Rockies! :)
And, notice the steering wheel rather than looooong handle bars!
Plenty of room for gear for a trip though, don't you think?
---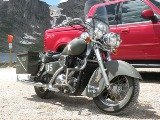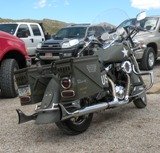 "Bouncin' Betty" was found on a ride up to Mount Evans in Colorado. The Highest road in America I believe.
It started out as a Kawasaki Vulcan Drifter, with the fender that reminds a fella of an Old Indian Chief.
Add a bit of OD paint, some Ammo Can Saddlebags and a few other touches and Wa La! a Unique Ride!
---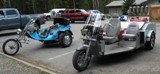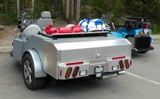 I was parked in Yellowstone on one of our trips, and these two Trikes pulled up and parked next to us.
I had a short conversation with the builder of the Grey Ride.
It's powered with a Buick V-6...
Non-Typical for Body Construction... a lot of it that isn't the diamond plate aluminum... is T-111 siding!
But it does have the third seat!
---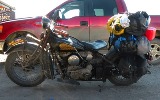 Like I said... passin' judgement on what constitutes a Touring Motorcycle can get you embarrassed... or even hit!
The fella riding this 1936 Indian was kinda offended when I'd asked if his bike had rode to Alaska in a trailer.
I'd ridden the 700 miles from Watson Lake to Tok Alaska the day before. While he didn't do that ride in the long, tough day I did; and I still don't know why I did! ;), he did ride that hard tailed, antique, Indian Motorcycle from Southern California to Tok, Alaska under its own power.
A young guy, either his son or his grandson, I didn't catch that, rode in a few minutes later on a vintage 70's Triumph!
---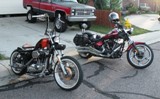 Since that 1936 Indian was Touring from California to Alaska, I couldn't hardly cull out the Sportster Bobber my son-in-law built now could I?
I don't really want to contemplate riding EITHER of 'em that far... but then... some think I was nuts for riding a Raider there and back... and working on plans to repeat the trip in 2013!
---
We were camped in the Utah State Park at the Goosenecks when this Ural Sidecar rolled in one evening.
They'd flown from New York to a dealer in Seattle to pick up the new rig, and were in the middle of a 7 or 8 thousand mile "shakedown" ride home.
Knowing of and having corresponded with Ara of Ara and Spirit fame, but never having met them to collect a pic of his rig this one caught my attention.
A "Hack" seems like an interesting ride to wander on... I can imagine a lot of opportunities!
---
There's the Unique Ride gallery for now... until I stumble across some more, out of the ordinary bikes... or at least the ones that seem that way to me!




Return from Unique Ride to Motorcycle Touring on Freedom Road