I added the Wheel Dock Motorcycle Chock...

... as the Motorcycle chock of choice when I upgraded the the Motorcycle lift on my fifth wheel trailer.
I needed a reliable, smooth operating, wheel chock system for the cowboy designed motorcycle carrier I've built on my 5er.
I searched and studied and pondered and searched again. In the end, the Wheel Dock motorcycle chock was in my opinion, the best choice. After loading and hauling my V Star 2800 miles, locked in the Wheel Dock... I'd have to say my opinion is now solidly reinforced.
My initial test run rolled it from Northern Colorado, mostly down the back roads, to Scottsdale Arizona... up to the Grand Canyon, Zion National Park and Las Vegas... and then through the remains of a snow storm... coming home.
... without a hitch. Nothing came loose... nothing gave out... nothing gave a whisper of a problem... and some of those roads are NOT in the best of shape. The bike rode out the rough stuff and the Wheel Dock held it right where it promised to!
It could not have done it's job better.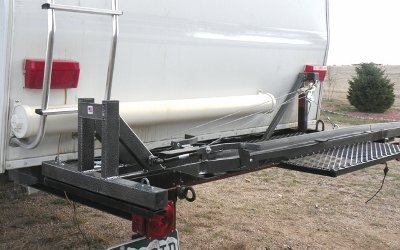 I like the fact that there is no 'rocking' action to be dealt with when loading or unloading my motorcycle.
Since my bike enters the motorcycle chock as it's going up about a 30 degree slope, as I winch it up the motorcycle carrier ramp... I didn't want the additional complication of that 'rocker' that you see with most chocks... or the 'jerk' necessary to unload it.
With the Wheel Dock... it just rolls in flat, you trip the lever and the locking bracket moves up against the tire... and in my case, holds the 520 lb (give or take) bike solidly in place while I strap it down... sitting on that fairly steep ramp.
Off loading... I just hook up my winch. Tension it to hold the bike in the chock... so I can remove the tie down straps and release the Wheel Dock's gas cylinder activated Tire stop.
Then... with me guiding the bike... my wife works the winch control and the motorcycle rolls - easily controlled - down the ramp...
Not athletics... No worries... No hassles! Sweet!
I've tested it under what I'd have to say are rather... 'outside it's design parameters'... unusual conditions... and I'll say it came up shining! Five Stars!
The Wheel Dock is engineered to sit on a 'tripod' foot pad arrangement... To eliminate any rocking.
With my carrier, I had to assist that a bit, by U-bolting the two outrigger arms to supports on my motorcycle carrier to eliminate a bit of side to side rock... which would not have been there if the Wheel chock were bolted down to a trailer or pickup bed base... or just sitting on a floor, as it was designed to be.

So... the only weakness in it's operation... was a slight inaccuracy in the fabrication of my carrier... NOT... a weakness of the Wheel Dock!
If you need a top Quality wheel chock for your pickup or trailer... or just the best motorcycle chock available, for doing motorcycle maintenance in the garage, I'd recommend you take a long hard look at the Wheel Dock Motorcycle chock.
It's quality of fabrication both in materials and craftsmanship is as good as can be desired. Heck, they even have an extremely reasonable trade in policy if you need to change chocks due to a change in motorcycles. (Wheel/tire size)
I've got no direct affiliation with the folks at Wheel Dock ... I'm just tellin' you what I've found... I bought it and found it to be everything they promised.
It might not be the best... It just might be the ultimate Motorcycle Wheel Chock!
Look around. See what the other guys have built. Look at the quality of materials, the Craftsmanship, and then... see if you don't agree with me... that Wheel Dock is the way to go when hauling your Motorcycle on Freedom Road! :-)
Return from Motorcycle Chock to Motorcycle Touring on Freedom Road