Motorcycle Boots Covered With Straps and Buckles Turn Me OFF

What can I say; the typical Cruiser Motorcycle Boots, with the stereotypical straps and buckles... well... I can't stand 'em... They just present an image that ain't me... I wanted something different...
It can be kind of a tough find. For the most part... if you look in the bike shops at boots designed as "Motorcycle Boots"... they're either those straps and buckles things... or some other variety that ONLY really work... when you're ON the bike.
That and the look of 'em is for Sport Bike riders - Which ain't me.

If you climb off and go to walkin' around... they're my idea of awkward junk.
And that's a problem. 'cause though I spend a lot of time on the seat of my Raider; Before I climb on it... and many times after I get where it's taking me... I'm walking and hiking around. I need something that's gonna do both jobs. I don't want to have to be carrying a second pair of boots, and changing my motorcycle footgear all the dang time...
Much of the Motorcyle Footgear I've found... is one or both of two things... poor quality, and lacking any real durability for the price, (price pumped up because they are Motorcycle Boots) or very poorly designed and uncomfortable if you intend to do much walking.
So... I quit looking in the Motorcycle Clothing and gear shops... and started looking at regular boots on the Open market... Looking for plain Ol' Boots that would perform well as motorcycle boots... and still look good.
A guy still has to keep up appearances! :o)
... A good Decision on my part...
'cause, once again, at just about my favorite gear shop, Bass Pro... I found two pair of boots that I wear nearly every day...and have for over a year with one pair... and ... since July of 2010 with the other...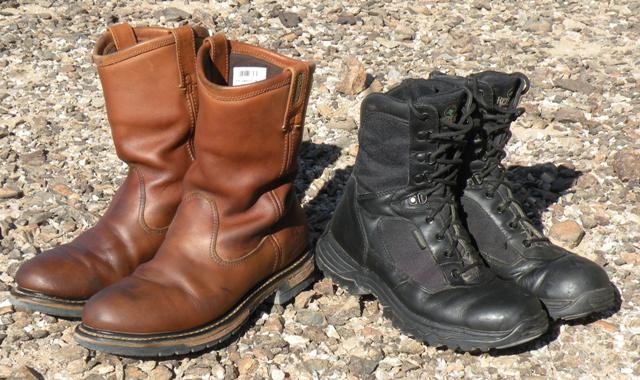 I alternate wearing to let 'em dry and such... though... the alternating isn't exactly even... more like 2/3 of the time I wear the Rocky built motorcycle boots... and the other 1/3 the black Redhead "Duty" boots.
The first pair, built by Rocky, are a Wellington style boot that has a waterproof membrane liner.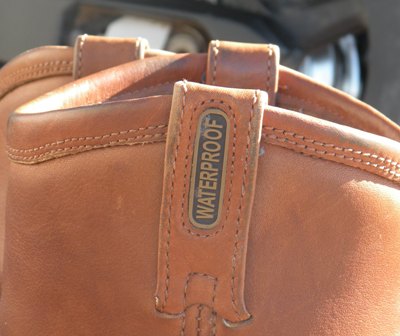 The soles have enough grip so my feet sliding on the pavement isn't an issue... and with the thinsulate insulation in them along with the waterproofing... these are the boots I wore most of our last winter in Colorado (2009/2010), keeping my feet dry and warm, in the 10 degree temps I rode in... (Maybe I'm warm blooded? I don't use any electric winter gear)
I've ridden these through thundering 2" thunderstorms... through snow... and through the mud of our dirt road, wallowing my Raider through the gumbo... getting home after a heavy storm... Though they were soggy and mud coated... I had dry feet every time...
They've got a decent heel notch to give you a positive grip on the pegs... Not an issue I'd guess for the boys that ride footboards on their scooters.
Now, for that dual use I was talking about... I have been wearing these boots on most of our hikes this winter (2010/2011) in the Arizona Desert near Quartzsite... We've rattled as many as six miles through the Desert Rocks... without an issue. They are comfortable... even with the insulation, they didn't get overly warm... and at something around $150 bucks as I remember, excellent performance for the money.
For durability... these pictures were taken in our Arizona Camp in February of 2011 after more than a year of use... I've been wearing these boots almost daily, since early to mid winter of 2009... so... you can see... again... very good performance...
The second pair of Motorcycle Boots I ride carry Bass Pro's RedHead logo.
They're patterned in a Military Duty Boot style... and look much like some of the "Duty Boots" built by Danner and others. They have the side zipper, and are also equipped with the Waterproof membrane.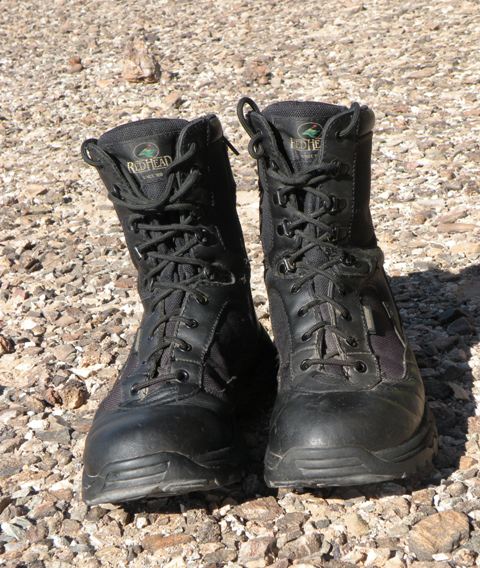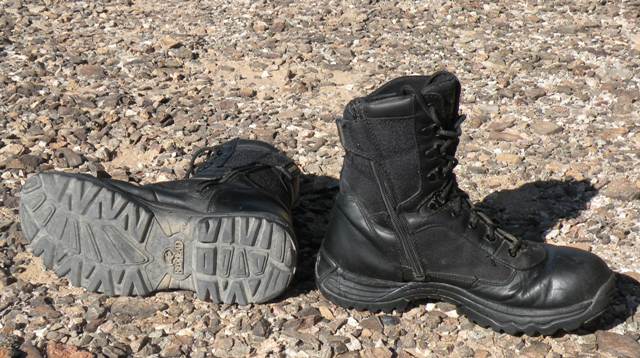 To tell you the truth... I'm not sold with the zipper. It hasn't really proven to be any quicker to get booted in the morning. For me, I still have to loosen the laces... so... I could do without the zipper.
But... the rest of this boot has proven out.
These are the Motorcycle Boots I rode on my Solo Motorcycle Journey to Alaska the summer of 2010 and they proved out there, very well...
There was one short period where I'd thought the membrane had failed... and I was cursing the boots... but... I soon discovered that the problem wasn't the boots... it was my rain gear...
The elastic bottoms of my Frog Toggs rain pants had worked up above the bottom of my chaps. The exposed leather got saturated from road spray... which saturated the bottoms of my jeans... water got wicked up the chaps and jeans... to be dumped into the top of the boots... soaking my feet inside... There's no way I know of for boots to be waterproof from the top! and seal out water running down your leg! :)
Took me three days, in a damp tent, on that wet Alaska road, to dry 'em back out... :o)
But... once I discovered what had happened, and kept an eye on my Frogg Toggs rain pants... it never reoccurred... and my feet stayed dry through the rest of 3,000 miles of 24/7 rain making the great circle through Alaska...
These boots have a good aggressive tread pattern, again a good heel notch to give positive peg grip and being lace up, give great support... making them good for service as both Motorcycle Boots and Hiking Boots...
The price for these RedHead Duty Boots was far below that of comparable boots from Danner... and below what I'd found branded as Harley Davidson or other 'dedicated' Motorcycle Boots... (that aren't waterproof)

They proved comfortable and reliable through the endurance required on the Alaskan Highway... and on many miles of hikes this winter.
...and from a purely aesthetic... personal... standpoint... they look good with the black leather chaps I wear... and no straps and buckles! :)
Again, as you can see, after over 7 months of service... including the 9,000 miles of riding my Raider to Alaska... they remain in excellent condition... a testimony, to my mind... of very good quality... for a very good price...
So... If you're like me... and want Motorcycle Boots that perform well, both on and off your bike... and don't look like you're trying to imitate the Sons of Anarchy or some such... Check out what's available at some of your local Sporting Goods stores...
...and... for caring for your Motorcycle Leather... whether it be your boots... your chaps... or your jacket... there's only one leather cream to use.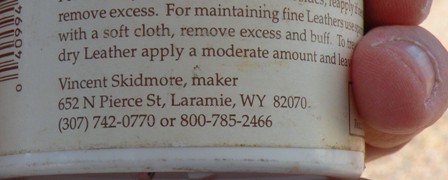 After making my living, building custom leather goods, full time for many years... the only thing I put on leather, to condition it, revitalize it... and protect it is Skidmore's Leather cream...
A little bit goes a long way... and you are NEVERgoing to find anything superior... leastways, I'll be tee total surprised if you do... I've tried 'em all... and this is what I use, the ONLY thing I'll use, on all my own gear... Saddle bags, Motorcycle Boots, belts, Horse gear... even the leather furniture we had in the house and the leather seats in the Old '98 we had... try it... you'll soon agree.
*Update* of my experience with these boots after three years.
Return from Motorcycle Boots to Motorcycle Touring on Freedom Road