I do a Connie!
by Tom Morgan
(Concord, Georgia USA)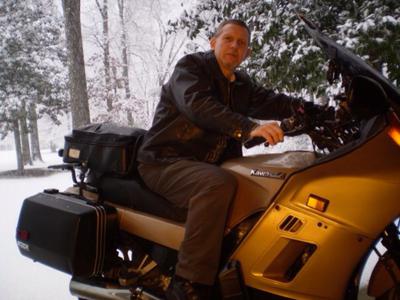 2005 Connie warming up!
2005 (above left) and 2013 (above right)
For 20 years, Kawasaki was known for its workhorse, the Concours.

The bike has gone by different nomenclatures, i.e. C10, ZG1000, and Ninja on steroids! Then ending production of the Concours C10 in 2006, The Concours 14 began. From 1000 cc C10 to a 1400 cc C14 both inline 4,

I believe that the "Connie" high-end bike remains the most efficient and most economical sport touring bike for the money.

However, being at the low-end in price range, its popularity makes it the most 'farkled' bike on the road!

A rider can ride it as a sport bike or use it as a truly long-range touring bike! That is, the C10 has a 7.5 gallon gas tank at nearly 48 mpg (...but I need to stop for a break before the tank needs refilling!).

The C14 not as hefty on fuel capacity but its 47 mpg still remains impressive with conservative riding.

The C14 has the comforts of handle-bar heaters, infinitely adjustable windscreen height, ABS, TPMs, and two driving modes, i.e. economical or furious :)

It has the highest seating position of any other legal bike but top-heavy - it is! My Connies has survived 3 deer hits without going down! Total cost for the deer meat was over $4,100... per pound, that makes it about the most expensive meat on the market!

Connie has mostly abs plastic on her so that the frame remained unscathed. I guess that is why she doesn't come with an expensive price tag out of the crate!

But, after adding cruise control, a corbin seat, rear luggage trunk, bigger foot pegs and handlebar risers, she magically becomes pricey as a new BMW but with prettier curves!

Connie provides better long-range sublime quietness than experienced in a cage without a lid!

Although HD riders are hesitant to throw out a hand when approaching my Connie, she simply whizzes on by as with a quick flick.

With over 300,000 miles on Connie without a down moment, I can't deny that we have immortally bonded. With that bond, she has earned her own stall in this family's heated garage. When the weather is 14 degrees or 100 degrees, she's not fussy and she is a cool gal to ride.

With that said, Connie is a country gal, straight or twisty, and she is not resilient being in the city burbs! But that's okay with me because I live for the daily wide-open rendezvous with Connie!

So, I would recommend any nerdy to try a date with a Connie in your neighborhood! She will not disappoint your wildest expectations in a fine gal to mate with! Oh... Don't tell my newest Connie that I had bonded with two other Connies in my younger years!