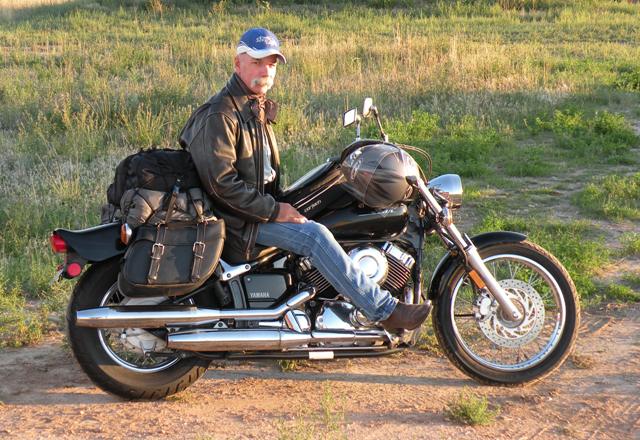 A V Star 650 Custom is a Sweet Touring Motorcycle
I expect a Yamaha V Star 650 Custom is not the first motorcycle most think of when you ask; "What's your idea of the Best Touring Motorcycle?"
They're probably going to think Honda Goldwing, Harley Road King, Yamaha Venture, or maybe... one I'd like to get :-) a Yamaha Road Star.
The thinking generally runs to the Big bikes.
I'm only 160 Lbs and 5' 7"... and it just don't take a metal munchin', asphalt meltin' beast to haul me down the road... and to tell the truth... a lot of those machines, impressive as they are, are simply too humongous for my butt... or my way of thinkin'.


Most of 'em... I can't even reach the ground!
Besides that low seat, I like the nimble handling of my V Star 650 Custom, the BIG Bike, of 'little' bikes.
Heck, If one of them others ever fell over on me, I'd have to hire a crane to pick the sucker back up! :-)
If you've checked out many of the other pages on this site, you already know, I'm fond of Naked Motorcycles!
So... the light and nimble scooter that a V Star 650 Custom is, suits me to a T.
One of the things that drew me to the Yamaha V Star line was the fact that I was looking for a cruiser motorcycle, that stayed in the vicinity of 500 lbs. I needed to keep the weight down so I could safely load the bike on a motorcycle carrier on the tail of my fifth wheel.
Lots of folks will tell you that you can't... I think... after hauling 'Slick'... something around 6 or 8 thousand miles hangin' back there... over roads less than prime... without incident... or breakage, I've proven that you can... if you do the job well.
I've rode the bike I'm riding now, from Northern Colorado up into the Black Hills and through Yellowstone. I've cranked the corners on Bear Tooth Pass and had no trouble keepin' up with a Yamaha Venture along the way. It goes quick enough to get me in trouble... should I be feeling dumb enough to want to go that way. :-)
... and its been comfortable enough on 350 mile days that I've got no complaints about it... other than it may come up a little short if you're hopin' to power through the wind.
Now... a V Star 650 Custom is not a bike I'd choose, was I lookin' to do a lot of wanderin' two up... but then the Boss Lady don't care to ride with her geezer! So for me, that's not currently a problem.
Like I said, I don't personally care for windshields and fairings so my bike is Naked... but if a person desired such appendages, they're sure available for the bike.
I get between about 40 and 55 mpg... depends on the wind and how I'm riding... generally this bike, for me, averages hard in the vicinity of 50.
I don't travel 'heavy'... but, carrying enough for a week on the road, my V Star 650 Custom handles and looks like it should. I don't go in for piling gear up so high on the tail that folks followin' behind can't see the rider...
In fact... when I see folks exercising such ways of packing a motorcycle for touring, it makes me nervous... But... I suppose that's their business. It just don't look like a fun ride to me. More like trying to roll a bowling ball down a two by four.
Bottom line, when you go out looking for a Touring Motorcycle, if you want to combine cruiser style, light weight, (relatively speaking), acceptable performance, awesome style :-)... great handling, customization potential, and a superb price for a machine... considering what you get for your money, look hard at a Yamaha, V Star 650 Custom.
And... did I mention Style? :-)




Return from V Star 650 Custom to Motorcycle Touring on Freedom Road