A Good Motorcycle Camping Tent
Gives You a Headstart!

If your Motorcycle Camping Tent is a pain to set up after a long day splittin' the wind... or it leaks in a downpour, at "Oh Damn it's early!"... Your Motorcycle Camping is not gonna win many awards in your memories.
So... do this part right! Take some time to figure out just what you want, and need... and then go get it.
You don't need to spend a fortune... but don't skimp on this either... Spend what you need to spend, to get what will do the job.
I bought my current Motorcycle Camping Tent at REI... and it's the place I do most of the shopping and buying for any of my Motorcycle Camping Gear.
Their gear is top notch, they compete well on price... their service has always been great... and since I've been a member of the co-op for probably 30 years... that dividend at the end of the year, on top of the good prices... is pretty sweet!
Fact is... I had $25 left from my last dividend I'd forgotten about when I went to pay for this new tent! How sweet is that!
Anyhoo... as I was preparing for the Wide Circle I'm planning on taking this fall ('09) I knew I would be needing a new tent... the Old 'off brand' dome I had has seen better days...
The huge number of tents available to choose from makes picking out a Motorcycle Camping Tent an exercise in confusion. There must be twenty outfits makin' 'em... in forty-leven different styles! Geeze! How's a fell supposed to make a choice?
For me... I finally decided (since their 'REI Branded' gear has ALWAYS done me fine) to go with an REI branded tent.
So... that narrowed it down to a two rider... or three rider... and my thinking went this way;
"It's been raining three days... and I'm brushed up in the tent... trying to write... maybe a little bit bigger size would be nice under those conditions... even if I am solo?"
and that's what I did... I chose the 3 man, REI, HOODOO 3, tent.
It has plenty of space for a couple people... I've always thought the manufacturers were being a mite 'generous' with their 'size' claims :-) so maybe 3 lil' people!... yet not so big it's overkill...
It's got pretty verticle sides, so for me it gives me plenty of space to sit comfortably in my 'Hippie Chair' and work on the laptop at night... to publish my websites!
I also put an REI Hoodoo 3, tent footprint under it... to maximize its performance and make the floor last as long as possible
But, you might ask, where are you gonna haul a three person Motorcycle Camping Tent on a bike?...
Not a problem!
This thing packs down to a package that is just 22" X 8" ... by my tape measure... which straps nicely across the handlebars on my bike... leaving the tail end wide open for all my other gear... SWEET!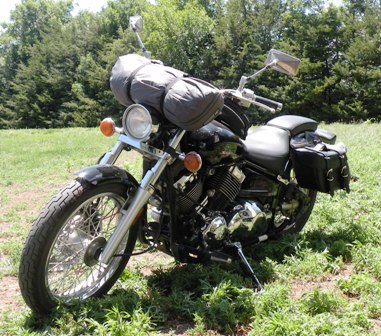 I put my Motorcycle Camping Tent... in a second bag, for a bit of extra protection when it's strapped up there on the bars... and the color of the stuff sack I got... again... at REI... matches the stuff sacks I got for my Sleeping bag... and my 'colder weather' gear... so I'm color co-ordinated and lookin' good leanin' through the twisties with all my possibles strapped on the bike! :-)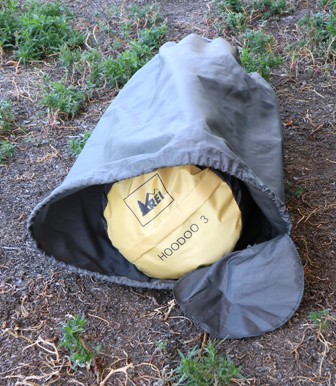 This Motorcycle Camping Tent is rated as a 'Three Season' tent... which is all I wanted anyway... While I ride all year... and only stay off the road when there is ice on it... I have little intention of camping in a blizzard!... so getting a 4 season tent made little sense... and the word I get anyway is that the only real difference is in the poles...
... the 'Four Season' are supposed to have their poles systems beefed up a bit... to better resist winter winds...
... Either way... this Hoodoo 3, Motorcycle Camping Tent looks to be a fine Tent to keep me dry and sheltered... Motorcycle Touring on Freedom Road!
...and at the Sale price I got, of $179 bucks (reg $249) and another $21.99 for the footprint... it didn't break the bank either!
But... you find yourself wondering... with all those poles... guys... pins, tent footprints and rain flys... that Hoodoo 3, Motorcycle Camping Tent must be a pain in your solo, chapped butt to set up, Right?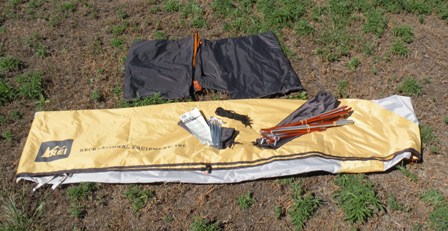 Well... WRONG! It might look intimidating at first, when you first dump it out of the bag... what with three cornered junction pieces and and legs seeming to stick out everywhere...
But then... as soon as you start to unfold the shock corded legs... you realize the damn thing is pretty much all put together already! You've only got two frame sections to plug together and there's not a whole lot of options for places to do that...
Once that frame is all together all you've got left is to gently bow the shock corded aluminum frame legs into the grommets on the tent body...
... and that's no issue either... as the frame, and the tabs the grommets are in are color coded... even a puss gut, bald headed, cowboy biker like my own self can figure it out in 'bout nine seconds... Sweet!
If you have trouble with it... just tell the Ol' lady you're goin' to the outhouse... She'll have your Motorcycle Camping tent all set up... when you get back!...
"Wha?... Oh...Uh... Thank You Darlin'!"
***Here's a few picks of setting up the Hoodoo 3***
***Motorcycle Camping Tent***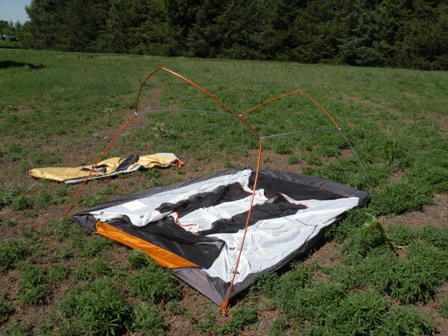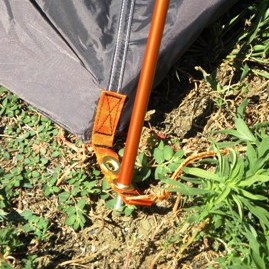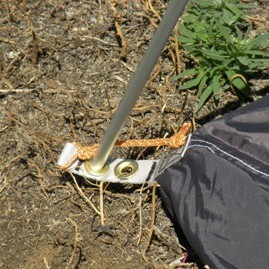 ***First time set up... maybe Three minutes of fiddling into it***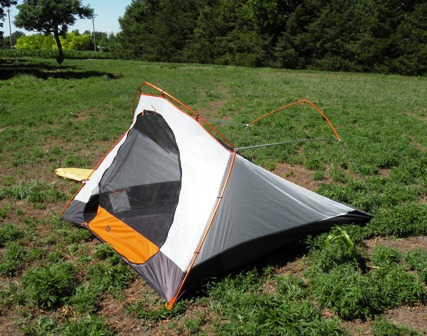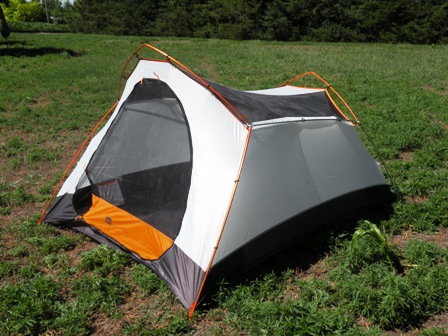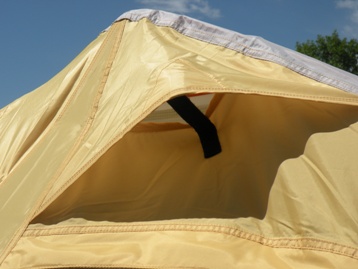 There's three vents with velcroed rods, in the rain fly. Two up front and a third at the other end... Plenty of ventilation in weather where you need the fly on... You should be able to control some of the ventilation by adjusting how tight you peg the fly to the ground as well... Maybe pull it tighter to the ground... if you want to hold in a little more warm... but just know that's gonna add up a bit more condensation... so... there's tradeoffs...
You can consider this Motorcycle Camping Tent Review... a 'Pre-test'... It will be a short while 'fore I can edit this page with the 'been there - done that - how it performed in use' story... but I'll update this page... in a few weeks, as soon as that happens!
...but I'll say right now, unless the thing leaks like a screen door... which is a pretty highly unlikely thing to happen... considering my experiences with REI equipment... I can't see how, for a solo biker that wants a bit of room... or two people who at least get along a little... you're gonna find a better Motorcycle Camping Tent for the money, than this Hoodoo 3 tent.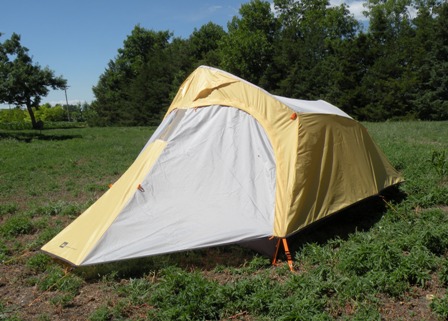 Another suggestion... you really want to think about... Set Up your New, Motorcycle Camping Tent at Home... BEFORE you take a ride with it... Make sure it's all there... it's all in good shape... and that You got it figured out... how to set the puppy up! :-)... nothing worse than pulling into camp late... 'cause you got held up by roadwork... it's raining... and you find out that you can't figure out how to set up your tent... or that part of it ain't even there... to be set up!
Avoid that heartburn and check the thing out first... at home... in the garage... with the doors closed...so your neighbors can't see you tryin' to calculate which goes where! :-)
Check out REI for your Motorcycle Camping Gear... I don't think you can do any better!
Well... it's time for me to get back to work! ...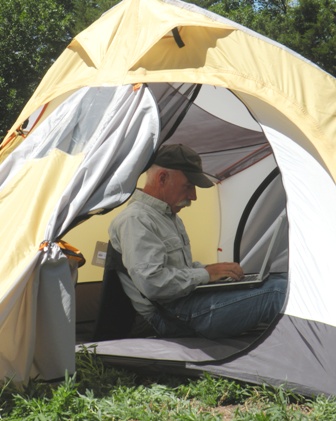 *** Update On Using a Hoodoo 3 ***
***For a Motorcycle Camping Tent ***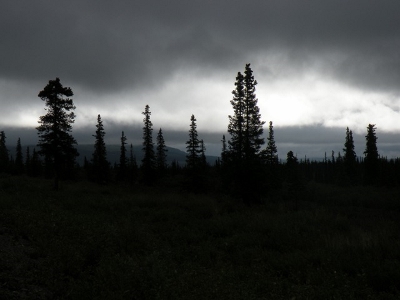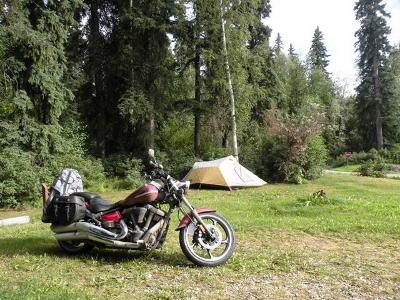 If you've looked around here much you already know that I took a long ride last summer (July/August of 2010). A 9,000 mile ride from Fort Collins, Colorado to Alaska. (there's a link over on the Navbar if you're interested)
Much of that trip the weather was gorgeous and the Riding was Sweet! ... How-some-ever-... for one nigh on to 3,000 mile stretch... I had rain... Rain in the morning... rain all day... rain in the afternoon... and rain most of the night...
I set the tent up in the rain... took it down in the rain... Packed up in the rain...
... and rode all day with it strapped to the handle bars... you guessed it... In the Rain! :o)
How did my Hoodoo 3 tent perform? ... one word... Superbly! It's fast and quick to set up... which is pretty important, when it's raining.
It was the first thing unpacked from the bike... and the last thing to go back on. It never leaked, not even under the onslaught of some genuine Alaskan frog strangler down pours.
There was a little condensation in the dampest weather, which is to be expected, but nothing that I even perceived as any sort of an issue. I expect if I paid more attention to keeping the exterior rain cover higher off the ground to maximize air circulation, I could have eliminated most of that... so, more my responsibility, not the tents.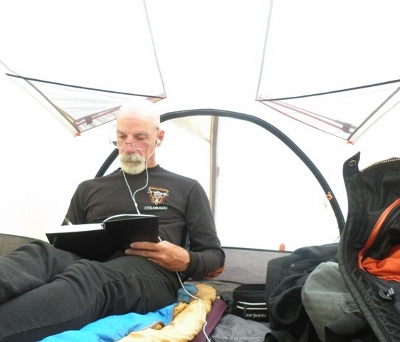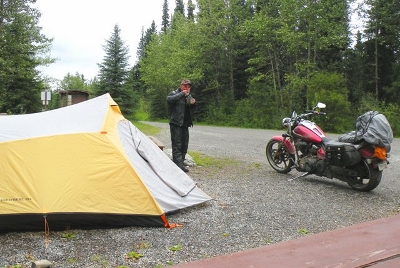 The durability so far is... what can I say, nothing is worn, no rips, no tears, no abrasions, no bent poles... no stuck or busted zippers...
This Hoodoo 3 Motorcycle Camping Tent is so far, the best tent of its type I've ever owned. Money Well Spent.
***Unfortunately, this particular design has been discontinued I believe. But, take the design elements of it and use them in choosing a tent for you.***
Something to also keep in mind; I have found that the quality of a tent still frequently lives in the "You get what you pay for" part of the world. Trying to go into the wilderness and rough conditions, with a discount tent is gambling with a LOT in my book.***

Where ever you get your gear... or your Motorcycle Camping Tent, Just Do It! ... and get out there... Motorcycle Touring... and Camping... On Freedom Road!
This life is too short. If you wait one day you'll wake up and it will be gone. Don't Wait! Do it TODAY.

Return from Motorcycle Camping Tent to Motorcycle Touring on Freedom Road