Great Motorcycle Roads.
by Erik
(Prescott, WI)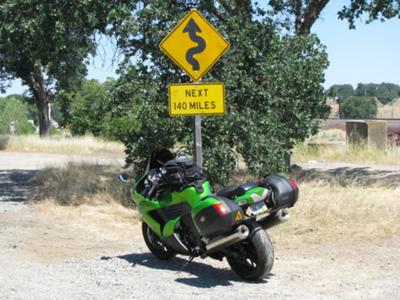 CA-36, west of Red Bluff
I have a few favorites, some are local, some are a full days ride away. I've even found some great roads that are many days of riding away.

I'm lucky to live along the south western edge of WI. If you check out Google Maps, and start in Prescott, look at the area east of the Mississippi River and south of Hwy 10. The area between the river, 10 and further east I-94, all the way down to the southern border of the state, is great riding. I've lived in the area for 6 years and haven't been on all the roads yet!

I have a few favorites in South Dakota. I started going to the Sturgis Rally in 1999. I'm not like the typical "biker" that attends the rally. I don't own a cruiser style bike. I have become fond of Sport-touring motorcycles. They seem to fit my style of riding better.

I attend the rally with a group of friends, mostly other retired co-workers, cops and firemen. We go to the Black Hills to ride. We don't party, but we do enjoy watching people. A few of my favorites in the Black Hills are, Iron Mountian Road, Vanocker Canyon Road, and Spearfish Canyon Road.

In the last few years, I've started to travel further from home. I try to visit areas with interesting roads. Three that come to mind are, hwy 12 in Idaho, CA-36, across northern California, and just about anywhere in Nevada.

Highway 12 in northern Idaho is a great road for motorcycles. To be honest, I've only ridden the 99 mile section from Kooskia, ID to Lolo, MT. Someday I'll ride it from the western ID border all the way to MT. The section I have ridden follows along two different rivers, the Lochsa and Clearwater. Because the road follows along side the river, it's full of nice sweeping curves and tight, twisty turns.

California 36 runs across the northern part of the state. I rode west from Chester, through Red Bluff. After Red Bluff there is a sign along the road that shows a curvy road and says "next 140 miles". I followed that section of 36 for the entire lenght. It stops at Hwy 101, just south of Fortuna. It was quite a workout, tossing around a fully loaded, 500 pound sport bike with luggage, through 140 miles of 20 to 30 MPH, tight twisty curves. At the end of the ride I was exhausted! I can't wait to do it again!

I also love riding in Nevada. On this years trip, I visited the tiny town of Rachel. I really enjoy riding curvy roads, but I also love wide open, middle of nowhere, no one around for miles, kind of places too. Nevada is full of my kind of emptyness. 376,375,318,50 and parts of 6 are all desolate, plan your gas stops, don't break down, good luck with the cell phone, kind of roads. Just what I love.