A ROUTE IN MY HEART
by AL
(GLASGOW SCOTLAND)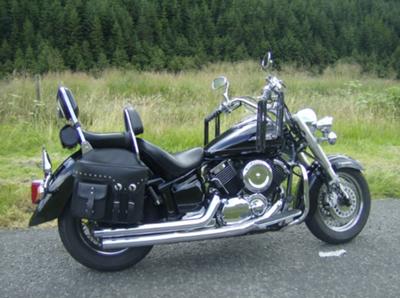 MY 1100 DRAGSTAR
Hey lads n lassies , I thought I'd share some of my motorcycle runs and trips with you .

I'm gonna start with a run I take regularly to clear my mind .

I ride around the British Isles quite a lot and more so in Scotland ( my home ), now there is nothing that pleases me more than throwing my leg over my 1100 dragstar( v star ) for yous over the pond.

The route I'm gonna talk about is a ride through the west coast lochs , through some historic villages , stunning countryside and some of the best motorcycling roads in Scotland .

I leave my home in the outskirts of Glasgow and after a short motorway ride I pick up the A82 passing through small villages and towns , heading by Dumbarton and 'round the twisties of Loch Lomomd passing through wee places like Tarbert , Loch Long and Arrochar. Then 'round loch long towards Cairndow thundering on up the mountains to my first stop, the Rest And Be Thankfull.

What a great name for a place at the top of a mountain. After a short stop off at the Rest the road takes you on towards Inverary where I normally stop and break out my wee travel fishing rod. The rich inland sea lochs hold a variety of fish and your almost guaranteed something for your evening meal .

Along this route there are long straight roads that give you a chance to ( what I call ) motorcycle meditation,

These straight roads allow you to just ease off the concentration a little and take a chance to look at the beauty that surrounds you. But all too soon your motorcycle meditation comes to an end when you are slapped in the face when you hit the exhaust scraping twisties winding through the glens.

Sometimes I just like to slow the pace down a little because although I'v been riding this route for years it looks different every time I pass through.

In late summer the purple heather covers the hills like a blanket , autumn gives a rainbow of different colours within the forests and hills of the distance and winter the frozen waterfalls , and mist and fog look, well just magical.

You know that they say men think of sex around every 3 seconds , well I'll tell you, motorcycling comes in at a close second for me .

Ride Safe

Al

*ed note; Thank You Al! I don't know about others, but just the names, Scotland and Ireland have a "magical" sound to me. Maybe it's my Irish roots! :) To read about riders there, and see how close in spirit we are, is fine!